Derry shop owners waiting for damage to be assessed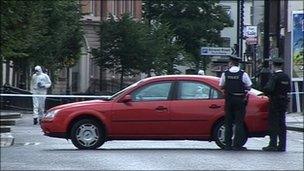 Owners of businesses badly damaged in the bomb attack on Strand Road police station in Londonderry said they still do not know if their buildings will have to be demolished.
Insurers have not fully assessed the damage caused to a row of shops which bore the brunt of the 200lb car bomb a fortnight ago.
The main entrance to the police station has also been blocked off.
A group calling itself Oglaigh na hEireann said it was behind the attack.
David Harris is manager of the North West Money Exchange which is situated opposite the police station.
"We're there 30 years and fortunately this is the first time ever we've had any damage to the shop even throughout the Troubles," he said.
The blast left the ceiling down, computers damaged and glass everywhere.
He said it was impossible to gauge the full extend of the devastation until a structural engineers report is completed.
"I know there's structural damage at the kebab shop side of the premises because that took the full extend of the bomb.
"There's large cracks on the ground floor right up to the second floor.
"If the strucural damage is very bad the whole section of the building may have to be pulled down."
The premises have remained closed since the bomb went off.
Mr Harris said they had to "up sticks and move".
"Obviously the hassle of actually getting moved and operating a business on the move has been extremely difficult.
"Fortunately we were able to find other premises very quickly.
"We're obviously trying to get back into the Strand road premises as soon as possible because a lot of our clientele won't have known where we've moved to," he said.
"The loss of customers we're not sure how detrimental that will be."
"We're just hoping that once we get the claims through we can at least get the damages all repaired and paid for.
"But as far as loss of earning go, they're basically lost. You're not going to get them back," he added.
"This is the first time we've been put out. Hopefully it will soon be business as normal."