Northern Ireland surveyors hit hard by public spending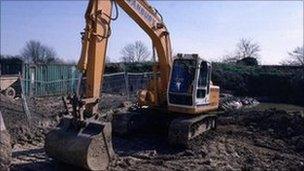 Building work being carried out in Northern Ireland is at its lowest level for 10 years, according to a survey.
The Royal Institution of Chartered Surveyors found more of its NI members reported declining workloads than in any other region of the UK.
Most said they expect business to worsen further over the next year.
Parts of the NI construction industry found work declining faster between April and June, with no area showing growth, the survey found.
In the mid-2000s, rapidly rising property prices in Northern Ireland were behind an intensive period of new developments, but the equally rapid fall of the housing market has meant troubling times for the construction industry.
The survey is the latest in a series of gloomy news for the Northern Ireland economy, with rising unemployment, falling business confidence and slower private sector activity.
The construction market in Northern Ireland is at its lowest point since RICS began its survey in 2000.
The scoring system it uses to compile its report rates the current situation in Northern Ireland at more than 10 times worse than Great Britain.
Northern Ireland scored minus 75 in the second quarter of 2010, compared to an average figure of minus seven for England, Scotland and Wales.
RICS Northern Ireland spokesman Jim Sammon said: "Large public spending cuts are a major factor depressing the local construction market, which is very public sector-driven".
Mr Sammon said that while pressure on public finances meant that cuts were inevitable, "the need to invest in our infrastructure for long-term competitiveness must be taken into consideration in spending decisions".
"Northern Ireland's infrastructure has been under-funded for many years, and if we don't make the necessary investment now, our economy will continue to suffer from this well into the future," he said.
Related Internet Links
The BBC is not responsible for the content of external sites.