Omagh victim still fighting for compensation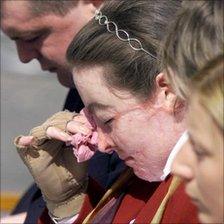 One of the victims of the Omagh bombing has said she is still fighting for compensation 12 years after the atrocity.
She said she would not be able to properly move on with her life until the issue is dealt with.
Donna-Marie McGillion suffered burns to 65% of her body in the bombing.
Twenty-nine people, including a woman pregnant with twins, died when a Real IRA car bomb exploded in the town on 15 August 1998.
Donna-Marie had many surgeries over eight years to try to reconstruct the areas of her body where she had been badly burnt.
She told BBC Radio Ulster that initially her claim had been delayed because the ongoing surgery held up the completion of her medical files.
Donna-Marie, who still has shrapnel from the bomb embedded in her neck, said her injuries have left her unable to work and that she wanted to be able to provide for her family financially.
"From the time the bomb went off I fought for every breath," she said.
"I fought to live. After I came out of intensive care I fought to get better.
"It's extremely frustrating and extremely traumatic to have to be fighting all the time.
"I wanted a quiet, tranquil life but it's just not happening."