Belfast dealer Charles Hurst buys Dublin Audi franchise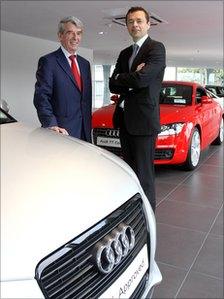 Belfast-based car dealership Charles Hurst has bought the Audi Centre in Dublin.
Chairman of Charles Hurst, Ken Surgenor, said the company would be "investing significantly in the coming months".
The business will operate under the Charles Hurst brand, but continue to trade as "Audi Centre Ltd".
Founded in Belfast nearly a century ago, Charles Hurst is now the largest motor retail group in NI.
Fintan Knight, managing director of Audi Ireland, told the Irish Times that the Ballsbridge area, where the centre opened in February, makes up approximately 35% of Audi's national sales.
The Audi Centre's current staff of 25 has been retained and an additional 15 employees are expected to be recruited over the next few years.
Charles Hurst plan to eventually relocate the Audi Centre in Ballsbridge and the aftersales premises in Sandyford to a new purpose-built facility near the M50, on the edge of the city.
Related Internet Links
The BBC is not responsible for the content of external sites.