Committee to discuss suspension of top civil servant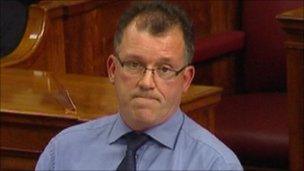 A Stormont committee is due to meet on Friday to discuss the events surrounding the suspension of one of NI's most senior civil servants.
Paul Priestly was suspended on Tuesday pending an investigation.
Concerns over the tendering for £28m in contracts led to the removal of non executive directors from NI Water (NIW).
Leaked internal government emails raised questions about Mr Priestly's handling of the affair.
Mr Priestly, who was Permanent Secretary in the Department of Regional Development (DRD) was suspended on Tuesday pending an investigation into his handling of the removal of four non executive directors from the government owned water company.
Regional Development Minister Conor Murphy has issued a statement saying Mr Priestly's position was "untenable".
The Ulster Unionist assembly member, Fred Cobain chairs the DRD committee which monitors regional development.
His committee members will discuss the matter on Friday and plan to question the minister Conor Murphy at the start of next month.
Speaking on Wedneday, Mr Cobain said "everybody's credibility is at stake".
"We're here as a government running this particular part of the United Kingdom, you have to be seen be doing it openly transparently and professionally.
"There are obviously questions to be asked and to be answered and we're hoping that the minister is able to give us the information we need to satisfy us all," he added.
Sinn Fein's Paul Maskey has defended what he calls Conor Murphy's prompt and robust response.
But the TUV leader Jim Allister has called for the minister's resignation and an investigation under the terms of the 2005 Inquiries Act.
Meanwhile in a statement, a DRD spokesperson said the minister for Regional Development will brief the Assembly at the first available opportunity.
They also said "all matters relating to the Independent Review Team and governance failures at NI Water are subject to an investigation by the Public Accounts Committee (PAC), which is due for report in the Autumn".
The statement also said the appointment of an interim permanent secretary "is being taken forward with urgency" by the head of the Civil Service.
Mr Priestly has been in the job for two and a half years and is the chief advisor to the minister.
His suspension came a day after a UTV investigation which examined Mr Priestly's role in relation to sackings of four NIW board members.
They were sacked by the minister in March after an independent review found they were culpable for a breakdown in procurement procedures which meant that £28.5m of contracts were awarded without being correctly tendered.
However, the UTV programme uncovered documents which purported to show that Mr Priestly, who jointly commissioned the independent review, was given an early draft of its report and asked for changes to be made to it.
Those changes are alleged to have directed criticism on procurement matters away from the DRD and onto the NIW directors.
Mr Priestly then gave evidence about the matter to Stormont's spending watchdog, the Public Accounts Committee (PAC), in July.
At that hearing some members of the PAC raised questions about just how independent the review had been.
BBC Newsline's Julian O'Neill said it was events following that (PAC) hearing which have brought about Mr Priestly's suspension.
"Conor Murphy said he spoke to Mr Priestly on Tuesday by telephone and new information came to light," he said.
"He doesn't say what it is but as a result he considers Mr Priestly's position no longer tenable."
It is known in the days after the hearing one of the independent review team wrote to the PAC complaining about its line of questioning. That complaint was later withdrawn.