Ofcom reports broadband increase in Northern Ireland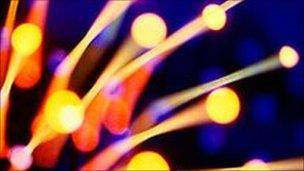 Northern Ireland is embracing the online world, according to new research.
Seventy percent of homes in NI now have broadband, an increase of 6% from last year, putting the region on a par with the UK as a whole.
Ofcom's annual Communications Market Report also found that more people in NI regard radio as their main source of news than anywhere else in the UK.
The report said the low level of TV production in NI was concerning.
Five years ago, only a quarter of homes in Northern Ireland had broadband, but now take-up is at 70%, almost matching the UK average of 71% and well ahead of Scotland (61%) and Wales (64%).
Broadband continues to be more popular in rural parts of NI than in urban areas (72% compared to 69%) and consumers in rural areas are also more likely to own a mobile phone than their urban neighbours (90% compared to 87%).
People in rural areas are also more likely to have satellite television (51% compared to 40%), probably owing to the fact that digital cable is restricted to Belfast and Londonderry.
Across Northern Ireland, satellite is the most popular TV platform, with 43% of homes having satellite as their main way of watching television.
Freeview is the next most popular TV platform at 28% with cable at 12%.
Only 13% of households still rely on analogue TV on their main set.
The full digital switchover is not due to take place in Northern Ireland until 2012.
More people in NI regard radio as their main source of news than anywhere else in the UK and, at 20%, it is almost twice the UK average (11%).
The amount of money spent by the BBC and UTV on local television programming and the number of hours they produced for viewers here both fell in the last year.
The report said the fall in programming output was due to a reduction in non-news/non-current affairs produced by BBC NI and UTV by a combined 137 hours (37%) to 232 hours.
Current affairs programming increased by nine hours to 75 hours.
Ofcom said a fall in news output by 45 hours to 662 was due to UTV decreasing its news programming by 20%, to 245 hours.
Programmes produced by the BBC for viewers in Northern Ireland accounted for 63% of all hours, while UTV accounted for the remaining 37%.
BBC NI and UTV's combined spend on TV programmes in 2009 was £25m, down 11% from £28m in 2008 and down 41% over the last five years.
The chair of Ofcom's Advisory Committee for Northern Ireland, Wallace Ewart said: "This report provides a valuable insight into communication trends in Northern Ireland and, on the whole, the findings are positive.
"The low level of TV production in Northern Ireland is a matter of concern for us and others but we welcome the steps that some of the broadcasters are taking to address the issue and we note the significant talent that there is in the local production sector here."
Related Internet Links
The BBC is not responsible for the content of external sites.