PMS savers hit out at £4m refurbishment of Church House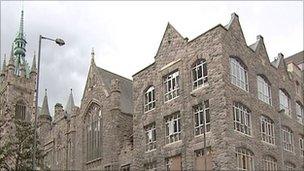 Some savers with money in the failed Presbyterian Mutual Society have hit out at the Presbyterian Church for spending £4.2m renovating its HQ.
The PMS crashed in November 2008, owing almost 10,000 investors money.
Since then, larger savers have received 12% of their money back. However, those with less than £20,000 saved in the society have got nothing.
The savers have said the money earmarked for refurbishing Church House in Belfast should be used to help them.
Church House, which faces on to Great Victoria Street, has been a landmark building in the centre of Belfast for over a hundred years.
The Presbyterian Church has already spent £4m replacing stonework on the exterior facade.
Now the church is refurbishing the interior, including work to move the entrance to Fisherwick Place, a new reception and exhibition area and upgrade of the assembly area.
Harry Hume of the PMS Savers Coalition said that he was "appalled" by the decision to proceed with the work.
He added: "I think it is a smack in the face. To glorify a building into a palace is not necessary at a time of hardship for so many Presbyterians."
Stephen Riley, who lost £34,000 when the PMS went into administration, also questioned the need for the renovations and said he felt "betrayed".
He said: "I do not know where this £4m is coming from. I know originally that back in 2007 they talked about £2m and now we are setting aside £4m."
Mr Reilly said the renovations were not as a result of safety concerns but for "convenience".
"There are people out there with the PMS who are in dire need," he added.
"Why don't they take a good chunk of that money and put it aside and say that it is for the PMS.
"We will worry about the renovations at a later date. That would be a compassionate thing to do."
Former Presbyterian moderator Stafford Carson, who is now responsible for PMS issues within the church, said he understood the frustrations of savers.
However, he said the church could not move money from one project to another.
"When money is given for a particular project, it is not possible for us to move this money to a fund for the alleviation of PMS savers."
The Executive said in June that it had a plan to borrow money from the Treasury to help PMS savers.
Last month, Peter Robinson and Martin McGuinness both said they were determined to push the coalition government in Westminster for a speedy resolution.
However, savers have not yet received news of any progress.
Related Internet Links
The BBC is not responsible for the content of external sites.