Bank of Scotland Ireland to wind down operations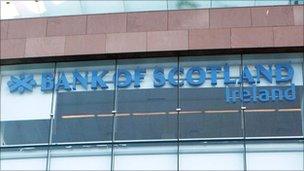 The Bank of Scotland is closing its business banking operation in Ireland.
Bank of Scotland Ireland (BoSI), which has an office in Belfast, will transfer its business to its parent company.
Bank of Scotland will then appoint another firm to manage the wind down of the Irish loan book, a process which could take between two and 10 years.
Most of the 800 staff will transfer to this firm, however, there will be 35 compulsory redundancies in areas like wealth management.
The Unite trade union said the remaining staff are "having to come to terms with the fact that job security is now seriously compromised by what is in effect a long term winding down of the Irish operation."
Irish broadcaster RTE reported that the senior management team at BoSI have tendered to run the wind-down company.
It added that the team, which would be led by current BoSI chief executive, Joe Higgins, is thought to be the preferred bidder for the contract.
The bank has 150,000 customers across the island of Ireland and a loan book of 32bn euros.
It was heavily involved in property lending and has consequently suffered in the Irish property crash.
Customers who have loans with the bank will see those facilities run to the end of their agreed term, though they will then have to refinance with a new borrower.
Customers with deposits will have to close their accounts by the end of this year.
BoSI's major customers in Northern Ireland include the Karl group, the firm which built the Obel tower in Belfast and are part of a consortium to redevelop Bangor's Queens Parade.
The bank was also owed around £2m by Taggart Homes when that company went into administration in 2008.
BoSI is ultimately owned by Lloyds who said that its other business operations, including its Halifax branch network in Northern Ireland, will not be affected by the shutdown.
Its Halifax operation in the Republic of Ireland has already been closed.
Related Internet Links
The BBC is not responsible for the content of external sites.