Slow progress on banking jobs
By Natalie Lindo
BBC News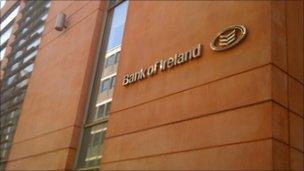 A major banking investment in Belfast which was due to provide 149 jobs by 2012 has employed just 20 people.
The Bank of Ireland Securities Services (BoISS) investment was announced in a blaze of publicity in 2007 during the height of the economic boom and was backed by £2m of Invest NI grants.
BoISS has so far drawn £84,000 of those Invest NI grants.
A BoISS spokesperson said staffing projections had changed due to market conditions.
"In 2007 the business announced its expansion plans in Belfast in light of the growing offshore alternative investment funds market in the asset management industry, which was very active at the time.
"The bank currently employs 20 individuals in its BOISS office in Belfast and will assess its staffing requirements to reflect the changing demands of the marketplace."
BOISS is the fund administration arm of Bank of Ireland Group.
In 2007, the multi-million pound investment was announced by the then First Minister Ian Paisley and Deputy First Minister Martin McGuinness.
It was expected the new venture would service the highly profitable hedge fund market which was growing at 20% per annum at the time.
The 149 jobs were intended to create positions for experienced accounts and skilled graduates.
BoI, like all other Irish banks ,were hit hard by the collapse of the property market and the global credit crunch.
They have been forced to reduce staff rather than employ more.