Coroner confirms mephedrone death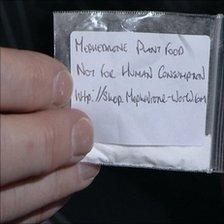 A 19-year-old man died from mephedrone poisoning, a coroner has confirmed.
Samuel Anthony Thompson, of Hanan Drive, Lurgan, died in Craigavon Area Hospital on 25 September 2009.
An inquest into his death heard that on the evening of his death his friends had seen him take an unknown quantity of mephedrone mixed in a drink.
Mr Thompson is the first person in Northern Ireland confirmed to have died from taking the drug and the third in the UK.
His friends told the inquest that as the evening progressed, Mr Thompson had become more and more agitated.
He collapsed shortly before 2300 BST. He was taken to Craigavon Area Hospital where, despite resuscitation attempts, he died.
Coroner Brian Sherrard conducted the inquest on 11 August in Craigavon.
In April 2010, mephedrone was banned and reclassified as an illegal Group B drug under the Misuse of Drugs Act.
Prior to that mephedrone was sold in shops as plant food as was seen as a way to get a legal high.
The drug has been linked to the deaths of a number of young people, although not definitively established as the cause of death in all cases.
In May, an organisation which provides support for those affected by drugs in Northern Ireland said the number of people being referred to them has increased by almost 300%.
FASA - the Forum for Action on Substance Abuse and Suicide Awareness - said a majority of its clients were under 18 and were taking mephedrone.