Committee to meet over NI Water events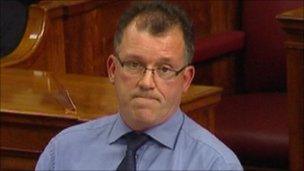 An assembly committee is to meet to discuss the controversy relating to NI Water (NIW).
The Committee for Regional Development is to hold a special meeting in closed session on Friday.
On Thursday, a top official was appointed to lead the Department for Regional Development on a temporary basis.
It followed the suspension of Paul Priestly on Tuesday pending a probe into events relating to NIW.
The civil service said his suspension was to facilitate the investigation and was not a disciplinary penalty.
The head of the civil service, Bruce Robinson, has transferred Malcolm McKibbin to the post.
Mr McKibbin is currently the top official in the Department of Agriculture and Rural Development (DARD).
Gerry Lavery, senior finance director in DARD will be temporarily promoted to the post in that department.
On Thursday, Regional Development Minister Conor Murphy backed the decision to suspend Mr Priestly.
Mr Murphy spoke about a phone call he had with Mr Priestly on Tuesday when new details emerged which led to him losing confidence in his top official.
Mr Murphy did not give specific details about his phone call, but suggested the suspension related to the Public Accounts Committee's NI Water probe.
"The matters in relation to the Public Accounts Committee (PAC) hearing, the events after that are now a matter of inquiry, so it wouldn't be appropriate for me to go into detail, but suffice as to say I consider the work of the PAC committee hugely important," he said.
"I think they have a very significant task in the public interest in holding departments to account and investigating matters that go on in departments and making reports and ensuring the recommendations of those reports are followed up.
"So any attempt to thwart that process or to have any interference in that process I think is a very serious issue and subsequent to the information I received I expressed my views on all of that to the Head of the Civil Service."
On Tuesday, Mr Murphy issued a statement saying Mr Priestly's position was untenable.
The minister has offered to meet the DRD Committee within weeks to answer questions.
Mr Priestly has been in the job for two and a half years and is the chief advisor to the minister.
His suspension came a day after a UTV investigation which examined Mr Priestly's role in relation to sackings of four NIW board members.
They were sacked by the minister in March after an independent review found they were culpable for a breakdown in procurement procedures which meant that £28.5m of contracts were awarded without being correctly tendered.
However, the UTV programme uncovered documents which purported to show that Mr Priestly, who jointly commissioned the independent review, was given an early draft of its report and asked for changes to be made to it.
Those changes are alleged to have directed criticism on procurement matters away from the DRD and onto the NIW directors.
Mr Priestly then gave evidence about the matter to Stormont's spending watchdog, the Public Accounts Committee (PAC), in July.
At that hearing some members of the PAC raised questions about just how independent the review had been.