Minister Alex Attwood outlines drink crackdown plans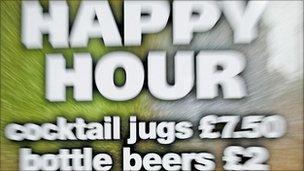 The Social Development Minister has outlined proposals to crack down on harmful drinking.
Alex Attwood wants new measures to deal with drinks promotions, including minimum pricing in pubs and clubs and a ban on the sale of alcohol below cost.
There would also be a new penalty points system for licensees and new powers for police.
The minister said he hopes to include the measures in a bill which will go through the Assembly in the autumn.
The executive has already endorsed Mr Attwood's proposals and they will now go for public consultation.
The legislation will include:
Powers for the PSNI to close drinking establishments immediately when there is disorder.
A new penalty points system for license holders when they are found to be operating outside the law.
New proof of ID rules for clubs and pubs.
Mr Attwood said that irresponsible alcohol sales were causing health and social problems.
He added: "I want to introduce minimum pricing for alcohol in clubs, pubs and supermarkets but also, on a larger scale, I want to target those retailers who sell alcohol below cost price in order to encourage higher footfall and therefore generate sales.
"Selling alcohol at minimal prices encourages people to drink irresponsibly, with damaging knock on effects on themselves and in society.
"It is my duty as the Social Development Minister to tackle this head on."