City Hall Continental Market set to continue until 2013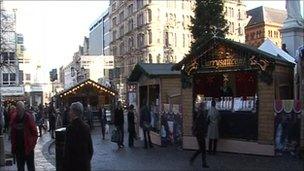 The Continental Market at the City Hall in Belfast is due to return twice a year until 2013.
Belfast City Council's deal with the current operator, Market Place Europe Limited, runs out after the event planned for this Christmas.
However a recent City Hall committee meeting heard that council officials want to sign a new three-year contract.
The contract will be put out to tender and the council expects to generate at least £90,000 from the deal.
The contract will be for a four-day market over the second bank holiday weekend in May and a 28-day market in the run up to Christmas.
The market has been running in Belfast for almost six years.
SDLP councillor Bernie Kelly, who sits on the City Hall development committee, said the proposal had gone through with unanimous support.
"The public have come to expect the market as an integral part of the city centre at Christmas," she said.
"We have been delighted with the response it has generated and are pleased to see it set to continue for another three years."