Minister 'has questions to answer' over NI Water events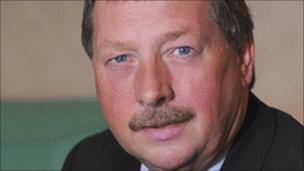 The NI finance minister has said his Executive colleague Conor Murphy has questions to answer about his handling of the recent controversy at NI Water.
The top official at Mr Murphy's Regional Development department was suspended on Tuesday.
The move came after leaked emails emerged regarding the sacking of four non executive directors at the company.
Sammy Wilson said Mr Murphy should clarify his own handling of an independent review.
That review led to the sacking of the directors.
Mr Wilson also raised concerns about whether Paul Priestly, the civil servant who was suspended, was being made into a scapegoat.
He said that "where you know there is going to be some heat brought down because of a particular action, you try and find someone to act as the conduit for that".
However, Sinn Fein assembly member Billy Leonard has defended Mr Murphy's handling of the issue.
He said Mr Murphy had followed all the correct procedures.
Mr Leonard said: "There is no issue of scapegoating."
Meanwhile, an assembly committee has met to discuss the controversy relating to NI Water (NIW).
The Committee for Regional Development held a special meeting in closed session on Friday.
Committee chairman, the UUP's Fred Cobain, said they would be putting questions to Mr Murphy in a meeting planned for 1 September.
Mr Cobain said: "At that meeting we will be asking the minister to explain to the committee, with the utmost clarity, developments since he briefed us on the Independent Review Team's report on 15 March 2010."
On Thursday, Malcolm McKibbin was appointed to lead the Department for Regional Development on a temporary basis.
It followed the suspension of Mr Priestly on Tuesday pending a probe into events relating to NI Water (NIW).
The civil service said his suspension was to facilitate the investigation and was not a disciplinary penalty.
On Thursday, Regional Development Minister Conor Murphy backed the decision to suspend Mr Priestly.
Mr Murphy said he lost confiidence in Mr Priestly following a phone call he had with him on Tuesday.
Mr Murphy did not give specific details about his phone call, but suggested the suspension related to the Public Accounts Committee's NI Water probe.
Mr Priestly has been in the job for two and a half years and is the chief advisor to the minister.
His suspension came a day after a UTV investigation which examined Mr Priestly's role in relation to sackings of four NIW board members.
They were sacked by the minister in March after an independent review found they were culpable for a breakdown in procurement procedures which meant that £28.5m of contracts were awarded without being correctly tendered.
However, the UTV programme uncovered documents which purported to show that Mr Priestly, who jointly commissioned the independent review, was given an early draft of its report and asked for changes to be made to it.
Those changes are alleged to have directed criticism on procurement matters away from the DRD and onto the NIW directors.
Mr Priestly then gave evidence about the matter to Stormont's spending watchdog, the Public Accounts Committee (PAC), in July.
At that hearing some members of the PAC raised questions about just how independent the review had been.