Limelight owner owed taxman £350k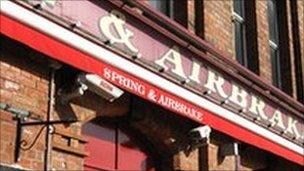 The company which owned Belfast's Limelight music venue was placed into administration after factors, including a large tax bill, meant it could no longer meet its bank loan repayments.
CDC Leisure, which ran a total of four venues, was placed into administration by Allied Irish Bank (AIB) in June.
The administrator's report, filed at Companies House this week, show CDC owed £350,000 to the taxman.
The firm also suffered severe losses on several events it promoted in 2009.
The bulk of its debts are to AIB, which is owed more than £7,772,569.
As well as the Limelight, which has hosted bands including Oasis and Manic Street Preachers, the group also owned Katy Dalys, the Spring and Airbrake and Auntie Annie's.
Another major creditor is concert promoter Eamonn McCann from whom CDC bought some of the bars in the group.
He is still owed £183,719.
The administrator's report details how after taking over the bars, CDC took on the lease of a storage facility in Argyle Street and another property in Adelaide Street.
It states: "An unsuccessful attempt to sublet all of the units in the Adelaide Street property tied the company to a significant rent burden and this in conjunction of HMRC arrears resulted in severe cash flow issues."
The report also reveals how the directors, Colin Wasson, Ciaran Smyth and David Neely, believe they paid too high a price for the bars, "a fact that only came to light following the acquisition."
Other factors included "a reduction in turnover in bars in general" and "a decrease in the profit level provided by outside music events".
CDC Leisure is owed £87,200 by a company of which Mr Smyth and Mr Wasson are directors.
The administrator, John Hansen of KPMG, said that he has written to the company requesting the money be repaid.
Of the directors, only Mr Neely remains employed by the company.
Mr Hansen added that he is attempting to sell the business as a going concern and that a number of parties have already expressed an interest in buying it.