Belfast medical clinic in administration may be sold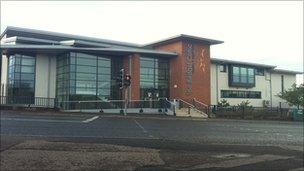 A private medical clinic in south Belfast has been placed into administration and will put up for sale following suspension of its NHS work.
The Belfast Clinic on the Lisburn Road employs 31 professional, administrative and nursing staff and uses a bank of up to 70 agency nursing staff.
It has experienced financial difficulties following the suspension of the NHS waiting list initiative.
Its services included cosmetic surgery, gynaecology, ophthalmology and urology.
Administrators Pricewaterhousecoopers will now seek to sell the facility.
Garth Calow of administrators Pricewaterhousecoopers said immediate steps would be taken "to determine how a sale could be best achieved given the current financial position".
"We understand that there is interest in this facility and our immediate priority will be to determine the best options for the business and creditors as discussions continue," Mr Calow said.
"Immediate actions will be taken to review and confirm ongoing arrangements, however in the meantime, patients with appointments or due to attend for arranged procedures, should contact the clinic in advance."
The clinic opened in 2008 and has 15 private rooms in a modern building.
The company's last set of accounts filed in February this year said it lost almost £650,000 between April 2008 and September 2009.
The accounts said the losses were mainly due to start-up costs and directors anticipated that the trading performance would improve.
They added that "both the shareholders and the bank have indicated thier willingness to continue to support the company for the foreseeable future."
The shareholders injected £200,000 into the company in December 2009 and in January this year the bank provided further support of £250,000.
The directors of the Belfast Clinic are two plastic surgeons, Stephen Sinclair from east Belfast and James Small from Helens Bay.
Earlier this year three other directors of company resigned. They included Robert Sinclair, Managing Partner at Robert G Sinclair solicitors in Belfast.
Related Internet Links
The BBC is not responsible for the content of external sites.