NI councils spend £186,000 on promotional photography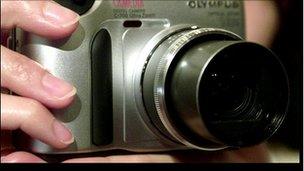 Northern Ireland's local councils spent over £186,000 last year on promotional photography, it has been revealed.
Figures obtained by the BBC show that Belfast City Council spent the most, at £61,349.
The photographs taken were for events such as civic dinners, launches, seminars and promotional material.
Lisburn Council spent most per head of population, £38,868, almost three times as much as Derry City Council's spend of £13,993.
A spokesperson for Lisburn City Council said that its initiatives which used promotional photography had helped generate thousands of pounds in revenue for local businesses.
Photographing "National Meetings Week" cost £202, while the cost of photographing one employee's retirement dinner came to £304.
More than £1,000 was spent photographing a visit by Prince Andrew, while a high-visibility vest event at a local primary school cost £293.
UUP Councillor Ronnie Crawford said he was surprised at the cost.
He said efforts "would have to be made to reduce the spend".
Newry and Mourne Council, which has a comparable population to Lisburn, spent a total of £970 on photography.
Ballymoney Council spent nothing. A spokesperson said they used their own digital camera for all photography.