Stalled loyalist parade takes place after route change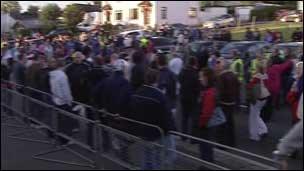 A loyalist band parade, held up after the discovery of a suspicious device in a County Antrim village, got under way after a delay of several hours.
A security alert was declared in Rasharkin when the device was found at 1730 BST at the rear of an Orange hall in the village's Main Street.
Residents in nearby Rencullen Park were moved from their homes as an Army bomb squad examined the object.
The parade eventually got under way using an alternative route.
Police had said the parade would not be able to take place until the area had been declared safe.
Several hundred supporters waited at the police cordon until the parade started. It was expected to end at about 0030 BST.