Dissident republicans 'targeting Tory Party conference'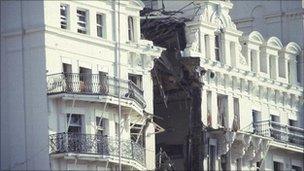 Dissident republicans are targeting the Conservative Party conference, a Tory MP has claimed.
Patrick Mercer, a former Army officer, claimed his information came from his sources in Northern Ireland.
"One of the aspirations undoubtedly is to attack the Tory party conference," he said.
The Northern Ireland Office said they did not comment on "media speculation" and anyone with relevant information "should take it to the police".
In October 1984, the IRA bombed the Grand Hotel in Brighton during the Conservative Party's conference, killing five people and injuring 34.
Mr Mercer said dissident republicans wanted to "draw attention to themselves" by mounting a similar attack.
"I don't think they have that capability but they're talking about it," he said.
A recent upsurge in attacks by dissident republican groups has included attempts to kill police officers in under-car booby-trap bombs and a 200lb bomb which exploded outside a police station in Londonderry.
Mr Mercer said: "Over the last three or four weeks there have been several very determined efforts to kill in Northern Ireland.
"There are three groups in Northern Ireland which are planning to do something to catapult themselves into the headlines before the party conference season."
This year's Conservative Party conference takes place in Birmingham in October.