Murphy 'in control' of Regional Development Department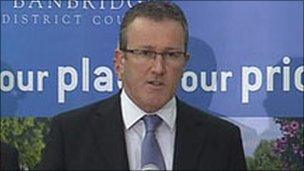 The Regional Development Minister Conor Murphy has denied that his department was out of control in the recent controversy over NI Water (NIW).
He was speaking after meeting the head of the civil service following the suspension of Paul Priestly - the top civil servant in his department.
Mr Murphy also defended his handing of the removal of four non-executive directors from NIW.
He insisted that he could answer any questions about his role in the affair.
On Tuesday, Mr Priestly, was suspended pending an investigation into the events surrounding NIW and a related investigation by the Public Accounts Committee (PAC).
The civil service said the suspension was to facilitate an investigation and was not a disciplinary penalty.
On Monday, the minister confirmed that an email from Mr Priestly concerning the PAC had been key to his view that the civil servant's position had become "untenable".
Mr Priestly had drafted a letter of complaint about the PAC on behalf of Peter Dixon.
Mr Dixon's role in an independent review of NI Water had been questioned by some members of the PAC.
On Monday Mr Murphy said: "I cannot be expected to be across every email which goes in and out of the computers here.
"The fact is that people are paid to get on with the job and that's what they are doing. As far as I'm concerned it's business as usual."
He also met the new interim non-executive board directors of NIW on Monday.