Profits rise at Kingspan group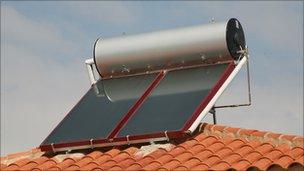 Building materials group Kingspan has announced its first rise in operating profit in three years.
The County Cavan-based company, which has a factory in Portadown, said profits from January to June rose to 33m euros up 9% on last year.
The company said the improvement was helped by cost cutting measures over the last two years.
Revenues rose by 1% to 558m euros from 552m while pre-tax profits rose to 25.5m euros from 24.9m euros.
In May the company said it would create 163 jobs in Portadown as part of a £47m expansion.
The engineering and manufacturing posts will be created at the Kingspan Renewables business which makes solar power equipment.
On Monday the company said the general sentiment throughout its markets was one of "noticeably improved confidence" despite the subdued nature of many economic indicators.
It said that recovery was clearly evident in many of the group's businesses in the UK, Germany and central Europe.
But it added that Ireland as a market weakened further, while office construction internationally also continued to decline.
'We are encouraged to have resumed profit growth again for the first time in three years,' said Gene Murtagh, Kingspan's CEO.
Related Internet Links
The BBC is not responsible for the content of external sites.