Dissident group claims members are former IRA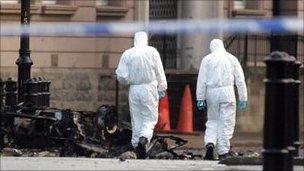 One of the groups involved in the recent upsurge of dissident republican violence in Northern Ireland has said that most of its activists are former members of the Provisional IRA.
Monday's Irish News newspaper includes an interview with a leading member of the dissident group Oglaigh na hEireann which is Irish for 'warriors of Ireland' or 'Irish volunteers'.
The group denies being involved in secret meetings with the government, but it claims there have been "indirect attempts" by the government to open channels of communication.
Earlier this month, Oglaigh na hEireann (ONH) exploded a 200lb bomb outside the main police station in Londonderry, and in April it left a bomb outside MI5 headquarters in Northern Ireland.
"The vast majority of our members are former members of the Provisional IRA who recognised a credible alternative in ONH, and a few had previously not been involved with any other group," an un-named member of the ONH 'army council' told the Irish News.
It is the first detailed interview given by ONH since it emerged four years ago.
At the weekend, there were reports that dissidents intended targeting the Tory Party conference in Birmingham later this year.
The ONH member said: "There are reports every Sunday about what ONH are going to do but we do not speak to tabloid newspapers.
"In the future, we will target the British apparatus, should that be in Belfast, Birmingham or London.
"It's OK for people to say we don't have the capability. A year ago, they said we couldn't even detonate a bomb."
It admits to having only a small number of members and very little support, but says it is determined to wreck political stability in Northern Ireland.
The ONH member said: "What we intend to achieve is to continually upset and expose this myth of normalisation.
"We intend to nick at the heels of the Brits to eventually force them into a situation where they open up negotiations on the issue of the British interference in Irish affairs."
Also in the Irish News, the head of the Catholic Church in Ireland, Cardinal Sean Brady, described dissident violence as "evil".
He added: "It is immoral and an offence against God.
"I appeal to all to reject any attempt to entice a new generation of young people into the futility, misery and evil of violence."