Monica McWilliams to leave human rights body next year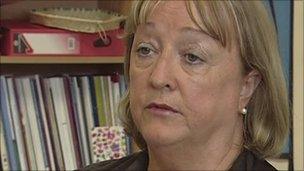 The head of Northern Ireland's Human Rights Commission is to step down a year early, the BBC has learned.
Monica McWilliams said her decision to leave next August rather than in 2012 was intended to give its new board a chance to settle in.
She said it was not directly related to the Northern Ireland Office's decision to impose funding cuts of 25%.
She accused the government of trying to stymie the commission by blocking £30,000 funding from a US charity.
Ms McWilliams said she did not accept the NIO's claim that the Atlantic Philanthropies money was blocked because it was outside the organisation's core business.
"This commission was long fought for, it now has strong and effective powers," she said.
"It was always under-resourced; it has a tiny budget of £1.7m, which I think translates as about 70 pence per person in Northern Ireland to defend human rights.
"We've come out of a long conflict; the commission was in the (Good Friday) Agreement and the St Andrew's Agreement, and therefore we believe it needs to be protected."
The Human Rights Commission was set up in 1999 following the previous year's Good Friday Agreement.
Ms McWilliams, an academic and former Women's Coalition assembly member, succeeded Brice Dickson as its chief commissioner in 2005.
SDLP Justice Spokesman Alban Maginness said the cutbacks meant the government was calling into question the "human rights commitments which underpin our devolved institutions".
"This is no mere cost-cutting exercise, because the Commission has been prohibited from accepting further funding from Atlantic Philanthropies," he said.
"This is an ideologically-driven move to marginalise and diminish our human rights mechanisms and it is part and parcel of the mindset which has rejected a bill of rights for Northern Ireland.
"It is very dangerous indeed if the British government starts meddling with the underpinning of the Good Friday Agreement."
Related Internet Links
The BBC is not responsible for the content of external sites.