Audit Office: £350m of school building budget 'unspent'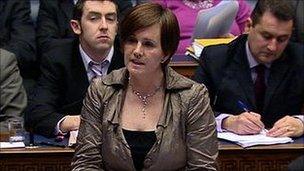 More than £350m set aside for school buildings has not been used, a government spending watchdog has said.
The Audit Office said the Department of Education had "consistently underspent its capital budget".
In an Assembly report, Auditor General Kieran Donnelly said some school buildings' potential for community use was "not being exploited".
He said in the last five years, over £1.2bn was allocated to the department but total expenditure was £857m.
It follows an investigation into the design quality of school buildings and the department's strategic planning and management of the school estate.
Despite acknowledged hold-ups in planning, land purchase and legal challenges, the report said school building work should be speeded up.
It said improvements to the schools estate were being constrained by delays in delivering projects and that "the majority of current schemes are expected to take at least six years to complete from when they were originally announced".
It said under-investment in the schools estate had resulted in a maintenance backlog currently standing at £292m, equivalent to £900 per pupil.
It also discovered a pattern of flaws when buildings are completed.
Director of Education for the National Association of Head Teachers (NI), Aidan Dolan, said he was dismayed by the discovery.
"It beggars belief that a third of the available money has not been spent.
"We can accept that building projects have a long lead in time and that much of this underspend commenced under direct rule ministers, but the fact remains that many children will return in September to substandard school premises," he said.
"The maintenance backlog in schools is currently running at £292m, why was the unused money not released to deal with this deplorable situation?
"Furthermore, it is very unfair that the Department of Education has continually criticised schools that have had more than a 5% underspend in their budget, yet this underspend in the Department budget runs to 30%," Mr Dolan added.
The report said that although design is said to be improving, many school buildings used materials that were "not robust or attractive" and the lay-out was not flexible enough to allow for future changes in the curriculum.
It also said there was "too much" surplus capacity in the education system.
It said that in the period from 2003-04 to 2008-09, school closures and rationalisation proposals had reduced the number of schools by 75.
However, despite this, surplus capacity in 2008-09 was estimated at 54,000 places, an increase from an estimated 35,000 in 1999-00.
In a statement, the Department of Education said it was "giving careful consideration to the findings".
"However, as such reports may be subject to Public Accounts Committee scrutiny, it would be inappropriate to make any comment in advance of any potential PAC hearing," a spokesperson added.
Sinn Fein's John O'Dowd said the underspend occurred under direct rule ministers and was not the fault of the current education minister, his party's Caitriona Ruane.
"In 2005/06 under direct rule ministers the underspend was £43m, that figure has been reduced under the governorship of minister Caitriona Ruane, in 09/10 to zero," he said.
"The years of underspend were totally unacceptable, that trend has now been stopped and the money set aside for school builds and maintenance is being spent on the frontline," he said.
However, the audit report shows that during Ms Ruane's time as education minister, money was handed back, as opposed to underspent: £86m in 2007/08, £29m in 2008/9 and £33m in 2009/10.
About 70 schools in need of new buildings across all sectors in Northern Ireland are still waiting for work to begin years after plans were approved.
Earlier this month, it was announced that 14 schools which were in urgent need of new buildings would be able to begin their projects in this financial year.
Education Minister Caitriona Ruane revealed the schools that would benefit from a £13m windfall.
The £13m found from other departments' surpluses will only start them off and the remainder of the £65m required would have to be found in future financial years.
In August, Ms Ruane also said she had found £10m to tackle the backlog of maintenance work for schools in Northern Ireland.
Related Internet Links
The BBC is not responsible for the content of external sites.