Claudy bombing report: Your reaction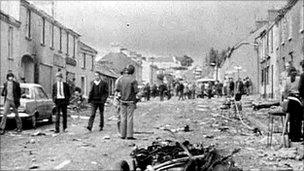 You have been sending in your reaction to the report into the one of the worst atrocities of the Northern Ireland Troubles.
Nine people died in bombings in Claudy, County Londonderry on 31 July 1972. An investigation by the NI Police Ombudsman has found the police, the Catholic Church and the state conspired to cover up a priest's suspected role in the attacks.
Here is a selection of your comments
Growing up during the troubles there was always speculation and rumour about the involvement of the Catholic Church and the "harbouring" of the guilty. Local communities knew who was involved but there was reluctance and even fear to "inform". NI Born
I would not single this man out because he was a priest, although the Catholic Church does not need any more negative publicity. I'm a Catholic by the way, but I'm sure many others have been "let go" over the years in NI for "the greater good". Not of any benefit for the relatives of those who were murdered of course. Priests, like many others in positions of responsibility, have abused that power over the years, so on balance, I guess there was a good reason to let him go. Parky, Enniskillen, Northern Ireland
This story really highlights the depth of the troubles. If there is one bright spot to come out of the whole affair, it's that the families of the victims at least now know for certain what happened to their loved ones. Much like the recent Bloody Sunday inquiry, the report is at least a small step towards Northern Ireland being able to put its dark past behind it. Alan Irwin, Lisburn, Northern Ireland
Every single person involved in that cover up who is still alive should be arrested and charged with perverting the course of justice. It's a disgrace. I wonder what Mr McGuinness' or Mr Adams's opinions to this cover up will be? M Dickson, Belfast, Northern Ireland
I am not from Ireland but, following from the child abuse scandals, I am absolutely appalled that once again the Catholic Church seems to think itself above the law. The fact that the police and government were also involved just makes it worse. No religion and no church should be outside of the law whatever the circumstances. Stephen Gray, Pontefract, England
This doesn't seem right. There was no warning, there were no police or military targets. It doesn't seem to fit any of the other bomb attacks that happened. There was no social or strategic value to it. I think an investigation from people outside Northern Ireland is needed. Those named, civilian and security forces, have been dead for years. I still think there is a cover up. P F, Newry, Northern Ireland
The sudden death of Fr Chesney in 1980 means he is not able to defend himself. The failure to arrest him meant he never got a chance to tell his side of the story. Although the police had a huge file of intelligence information linking him to terrorism, they did not seem to have much hard evidence. How can this critically important information appear in an article headlined "A Priest who got away with murder?" James Bruce, Bristol, England
I had always thought that Willie Whitelaw was a decent man. That image is now well and truly tarnished. As for the Catholic Church - surely its days are numbered? Steve Laird, Belfast, Northern Ireland
Once again the Catholic Church gets away with it, it is above the law, what a whitewash. Derek Ferguson, Bangor, Co. Down, Northern Ireland
He found "No evidence of criminal intent by anyone in... the Catholic Church"? Is he serious? David Hague, Woodbridge, England
Not really a surprise. Whilst I didn't know that any priest was actively involved in the formation of a bomb plot and the subsequent planting of a bomb, we ALL knew that some priests had strong links with the IRA, supporting them and even protecting IRA members. Alan, Northern Ireland
The Church is right in saying that they didn't cover up an evil act. It would seem that the British government offered to do it for them. However, this doesn't negate their moral responsibility to respond more appropriately. All in all it stinks of hypocrisy, considering recent disclosures relating to child abuse and whatever else lies festering in the closet. The Catholic Church's self declared divine mandate to be the moral conscience of the world is nothing but the pompous, self-righteous posturing of a large group of very sad and desperate men. Ivan Stevenson, Born NI, now London, UK
I feel let down once again by the Catholic Church. I understand that there were significant tensions at the time but the laws by which the Church and its followers are supposed to live are supposed to be above all of that - they are meant to be a timeless moral code. If allegations were made against a priest - for any reason, the Church should have been encouraging the police to question that individual. Kate, Co Down, Northern Ireland
Will the IRA now admit to the attack? What is Martin McGuiness' reaction as he was involved in the IRA in the area at the time? What documentation does the Catholic Church have and was the Pope made aware of this arrangement? More questions than answers. Gary McCracken, Belfast, Northern Ireland
The first principle of the Church in this case and in the child abuse cases is that protection of the mother church supersedes natural justice. It is time for all religious institutions to provide full transparency in their actions and submission to the laws of the state. Patrick Keane, Belfast, Northern Ireland