Claudy families still looking for justice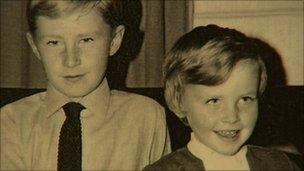 The relatives of those killed in the Claudy bombing have reacted angrily to news that a Catholic priest suspected of being complicit in the planning of the attack was not pursued by police, despite evidence at the time linking him to the IRA.
The families met with the Police Ombudsman for Northern Ireland and saw his report on Tuesday morning in the village.
It confirmed that police in 1972 believed that Father James Chesney was director of operations for the south Derry IRA and was involved in the planning of the Claudy attack.
However, discussions took place between the police and the Northern Ireland Office and than between the Secretary of State and the leader of the Catholic Church about Fr Chesney. Later in 1973, he was moved to a parish in County Donegal.
Nine people were killed after three bombs exploded in the small village on 31 July 1972.
No paramilitary group has ever claimed responsibility for the attack, and no one has been convicted of it.
James Miller, who was two-years-old when his grandfather David was killed in the third bomb, called on the British government and prime minister to disclose more information.
"To be told that after the bomb he was moved to Donegal and continued his activities - it's very hard to take on board," he said.
Mark Eakin lost his sister Kathryn who was eight when she died. He said the investigation into Claudy could not end with the Ombudsman's report.
"This has got to go a stage further. It's got to go to Westminster. They ultimately made the decision to brush Fr Chesney under the carpet," he said.
"I feel so sorry for the Catholic people who had to list that about their own church. They have been let down and I have been let down by the government I pay my taxes to."
Mr Eakin said he still hoped somebody would be brought to justice.
"I think it's ridiculous that they can say 'that's what happened, so be it'," he said.
"That day I lost my sister, and I would say I lost 50% of my parents because their life was destroyed.
"We lost our home, we lost our business."
One of those injured on the day, Marjorie Leslie, said she hoped other people involved in the attack would now come forward.
"I know the remit (of the Ombudsman's report) was to concentrate on Fr Chesney, but he didn't do it alone," she said.
"We can hope that someday we may have a conclusion."