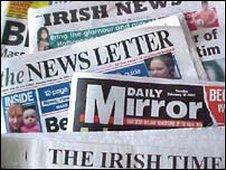 Journalist Mike Philpott takes a look at what is making the headlines in Wednesday's newspapers.
Page one of The News Letter is taken up with a black-and-white picture of the aftermath of the bombings in Claudy.
The Irish News has a series of photographs - again in monochrome - of the nine people who died that day.
The Belfast Telegraph has a blurred shot of Father James Chesney, who has been implicated in the attack, set alongside a picture of Merle Eakin, whose eight-year-old daughter Kathryn was one of the victims.
Sadly, Mrs Eakin didn't live to see Tuesday's report by the Police Ombudsman.
The paper says she mourned her loss for the rest of her life, while the priest who masterminded the atrocity was living comfortably in rural Donegal.
The Irish News says those involved in what it calls the "conspiracy of silence" may have acted with the best of intentions, their decisions informed by fears that such a shocking revelation would lead to loyalist attacks on the clergy, "but that didn't make their actions right".
The Belfast Telegraph says the bereaved of Claudy were let down by Church and State and the Church took "a tactical approach rather than a moral one".
The question of morality is also raised in Irish Independent which says that for the Catholic Church and for the people of Ireland, the issue "is all too familiar".
Once again, it says, the families of the victims are furious.
The Irish Times says the Church has been here before, and must learn from its unhappy experiences.
But perhaps the strongest language is in the News Letter, which describes the events after the bombing as "disgusting", "stomach-wrenching" and "immoral".
Related Internet Links
The BBC is not responsible for the content of external sites.