John Lewis row hits Belfast City Hall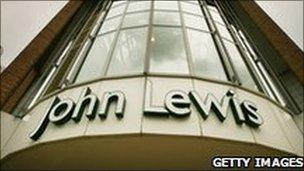 A row over the proposed John Lewis store planned for Sprucefield, near Lisburn, spilled onto the steps of Belfast City Hall on Wednesday.
A meeting hosted by Belfast's lord mayor heard from speakers opposing the siting of the store at Sprucefield.
Outside the mayor of Lisburn and some councillors protested.
They claimed they had been snubbed and accused the lord mayor of Belfast of playing politics with jobs at a time when NI can least afford it.
In June, opponents of the proposed expansion at Sprucefield, anchored by John Lewis, won the right to mount a new legal challenge to it.
A public inquiry is expected to be heard in October.
The original planning application for the development was submitted in 2004. This application went to judicial review and was subsequently withdrawn.
The application was re-submitted in 2008 for the same overall size but a reduction in the number of units from 29 to 19.
Lisburn mayor Paul Porter criticised Wednesday's City Hall meeting.
"This is not about Lisburn, this is not about Belfast, this is about trying to bring investment into Northern Ireland plc.
"And as the two major cities in Northern Ireland, I thought we could have worked together," he said.
"It is disgraceful, regrettable and I must say appalling, that they're trying to stop a major outlet that would create jobs."
However, Belfast Lord Mayor Pat Convery said: "It's never been the intention of Belfast City Council at any time to snub anyone.
"This is about the greater good of Northern Ireland."
He added: "The reality is that Belfast and other town centres will be considerably less attractive to future private sector investment if permission for the Sprucefield development is granted."
Earlier, the head of the anchor tenant in Belfast's Victoria Square entered the debate.
John King, chief executive of the House of Fraser, said John Lewis "should come to Belfast instead of Lisburn".
He said the Victoria Square shopping centre "had nothing to fear".
"They are in most major cities in the UK like us and we believe that the customers will still come," Mr King said.