Paddy Power posts 54% rise in profits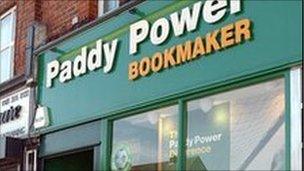 Irish bookmaker Paddy Power has reported a 54% rise in half year profits to £43m.
The firm said it had been boosted by a six-fold rise in profits from its UK betting shop estate after it opened 27 new premises in the period to 30 June.
It also confirmed it had made £15m from losing punters through the 2010 World Cup football tournament.
Paddy Power said profits for the current year were expected to exceed current market forecasts.
Its chief executive Patrick Kennedy said: "As ever, our financial performance is subject to the glorious unpredictability of sport.
"Overall though, we finished up a little ahead of our normal expectations and certainly a good deal better than where we were last year."
The firm's profits were hit last year by unfavourable horse racing results and a clean sweep by Irish teams of rugby's Grand Slam, Heineken Cup and Magners League titles.
Paddy Power customers bet £70.5m on the football World Cup in South Africa.
Spain's victory generated a profitable return for bookmakers after the European champions' opening defeat to Switzerland deterred some potential backers, and they also benefited from patriotic bets on the England team.
About 43% of the Paddy Power group's operating profit is generated from UK customers, with 39% from Irish customers and 16% from punters in Australia.