Men freed after Lurgan bomb questioning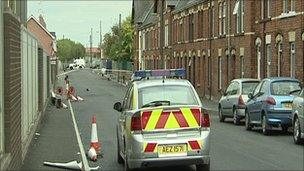 Three men arrested in connection with a bomb blast in Lurgan have been released.
They were questioned by detectives in relation to the explosion in the town which injured three children on 14 August.
The bomb exploded in a bin while police investigated a warning that another device had been left at a nearby primary school.
The three children, aged between two and 12, suffered minor injuries.
Dissident republicans were blamed for planting the bomb which exploded without warning in the town's North Street.