Solar-powered bins make NI debut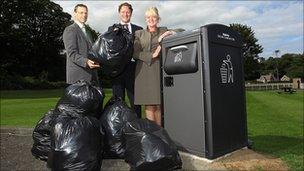 It is a familiar sight at tourist spots across the world.
A bin overflowing with sweet wrappers and juice bottles and the obligatory swarm of wasps feasting on leftovers.
Now a local council has become the first in Northern Ireland to adopt a high-tech solution to the problem.
Larne Borough Council has installed 19 solar-powered compactor bins at sites along the Antrim Coast and in some other beauty spots in the area.
When the litter reaches a certain level in them, an internal compactor is triggered.
This is repeated until the bin becomes 85% full, at which point an alarm is activated.
The bin is equipped with a SIM card and this will then send either an email or a text message to the relevant department in the council to say the bin needs emptied.
They can hold six to eight times the amount of rubbish a standard one can.
Larne council's director of environmental services, Philip Thompson, said the bins would reduce operating costs and be more environmentally friendly.
"The compacting aspect of the bins makes them ideal for busy tourist locations because the compacting function increases the holding capacity of the bin.
"This is particularly useful because the added volume helps cater for increased use on busy tourist days," he said.
"Moreover, as they are completely pest-proof, the bins also eliminate the potential for birds and rodents to access the litter."
Solar-powered bins are in use in major US cities including Boston, Philadelphia, and Baltimore, and at tourist sites such as the Alamo in Texas, and Harvard University.
They are also used by a number of councils in the Republic of Ireland.