41-year-old man on north Belfast riot charge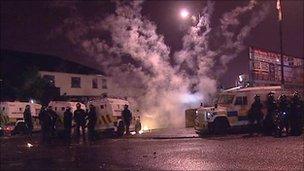 A 41-year-old arrested in the Lurgan area on Wednesday has been charged with riotous assembly.
He is due to appear at Belfast Magistrates Court on 21 September.
The charge relates to disturbances in north Belfast's Ardoyne area on 12 July. Meanwhile, a 16-year-old youth remains in police custody.
The teenager is being questioned about violence in Ardoyne on 12 July - the first of three nights of violence in the area.