Man arrested over Tyrone illegal fuel plant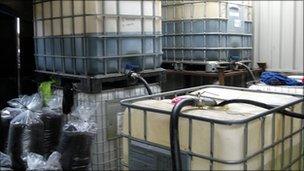 A man has been arrested following the discovery of a diesel laundering plant hiddenat a house in Clonmore, County Tyrone.
Customs and PSNI officers seized 10,000 litres of laundered green diesel, vehicles, storage tanks and laundering equipment during the operation.
More than 1,000 litres of toxic waste also had to be removed.
The plant had the capacity to produce up to 1.5m litres of illegal fuel a year, Customs have said.
The man who was arrested in Tuesday's raid has been released on bail.
Commenting on the seizure, Mike Connolly of Customs said: "Fuel laundering is unregulated and dangerous.
"The by-products from the laundering process can cause severe damage to the environment with taxpayers and local ratepayers having to pay for the clean up and disposal costs.
"This contaminated fuel could have been transported anywhere across Northern Ireland endangering other road users."
Green diesel is the Republic of Ireland equivalent of the UK's red diesel.
It is fuel which has been filtered through chemicals or acids to remove the government marker.