Ex-officer was within 15 minutes of Fr Chesney arrest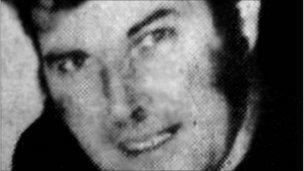 A former police officer who investigated Fr James Chesney in 1972 has told the BBC he was prevented from arresting him by senior RUC officers.
Fr Chesney, who died in 1980, was named in the Police Ombudsman's report into the Claudy bombing.
The Special Branch detective sergeant said he was within 15 minutes of launching an operation to search Father Chesney's house.
He was told not to proceed, because "the matter was under control".
Three no-warning bombs exploded in the County Londonderry village on 31 July 1972.
It later transpired that talks between the Catholic Church, the police and the government led to Fr Chesney being moved to a parish in Donegal.
The Police Ombudsman's report confirmed that detectives believed Fr Chesney was involved in the bombing which killed nine people.
However, former IRA explosives officer Shane Paul O'Doherty, who was active in the Derry-Donegal area in the early and mid-70s, said he had never heard anyone mention the priest's name at the time.
Mr O'Doherty, who served 14 years in jail in England for his involvement in a letter-bomb campaign, told the Irish News that "journalists appeared to have mistaken intelligence reports for hard evidence".
The police officer was interviewed by the ombudsman's investigative team for its Claudy report, and the ombudsman later wrote to inform him he would be referring to his evidence in his findings.
The ombudsman, Al Hutchinson, found that after talks between the then Catholic Primate Cardinal William Conway, and Secretary of State William Whitelaw, Fr Chesney was moved to a parish in the Irish Republic.
No action was ever taken against Fr Chesney, who detectives believed was the IRA's 'director of operations' in south County Derry.
He died of cancer in 1980 aged 46.
The retired Special Branch officers said the decision to "leave the priest alone" was made at a senior level.
"The time that I asked for his arrest, I had information there was a large amount of firearms in the parochial house.
"I had good sources within the Provisional IRA in south Derry," he said.
He said he told his superiors he was going to raid Fr Chesney's parochial house within 30 minutes unless he was told to do otherwise. He said he had soldiers standing by in Magherafelt police station as back-up for the search and arrest operation.
"They (senior officers) gave me an answer back within 15 minutes that things were under control, not to go.
"I was told, leave it alone, we're looking after it. Then the next thing I heard was that he was transferred to Malin Head (in Donegal)."
The ex-policeman said he himself was transferred out of the area a few months later after being wounded in an IRA attempt on his life.
He said he had no doubt whatsoever that Fr Chesney was involved because other Special Branch officers had received the same information from other sources.
"All my reports were obviously filed in headquarters and just locked away and now the ombudsman has got them out, discovered them."
Shane Paul O'Doherty, who cut his links with the IRA while in prison in England, said: "It is extraordinary that the ombudsman's report into the Claudy bombing pours judgment upon the late Fr Chesney and then asks for witnesses to come forward wtih evidence to support its case.
"Would this be putting the hanging before the trial?"