Belfast City Airport to hold residents meeting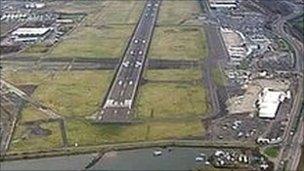 People living near Belfast City Airport will have the chance to raise any issues they have with the airport's management on Thursday.
The airport said it hoped the day will clarify matters around the proposed runway extension and give the public the chance to see behind the scenes.
The airport wants to extend the north east end of the runway by 590m.
There were 1,486 letters of objection sent to the authorities over the extension plans.
In March, the Environment Minister Edwin Poots, said there would be a public inquiry into the plans to extend the runway at George Best Belfast City Airport.
The airport said the scheme could create 100 jobs and £120m in tourism revenue.
As well as letters of objections, petitions with 499 names and 2,241 letters of support were sent to the authorities over the scheme.
Dr Liz Fawcett, Chair of the Belfast City Airport Watch Steering Group, said that while the group welcomed the fact that "the airport is beginning to listen to local residents" the event won't make life any better for the tens of thousands of people who suffer from aircraft noise.
She added: "The real responsibility for tackling the noise issue lies with the Environment Minister, Edwin Poots - he needs to say 'no' to any further expansion and to start enforcing the environmental restrictions under which the airport is meant to operate. "
Related Internet Links
The BBC is not responsible for the content of external sites.