Titanic Quarter builder can't force man to pay for flat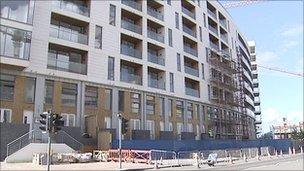 A man who had agreed to buy a flat in Belfast's Titanic Quarter cannot be forced to honour the contract as he has no money, the High Court has ruled.
Neil Rowe, from Belfast, agreed in 2007 to buy a flat at the Arc complex.
He has since lost his job and cannot get a mortgage, but the developer was seeking a court order to make him pay.
Mr Justice Deeny refused to grant the order, ruling that Mr Rowe had "a clearly arguable case" that it would be impossible for him to pay.
However, the developer will retain Mr Rowe's deposit of £26,000 on the £264,500 flat. He may also have to pay damages of up to £30,000 to compensate the developer for breach of contract.
The developer is Titanic Quarter Ltd which is owned by Harcourt Developments Ltd, a company controlled by Donegal developer Pat Doherty.
Mr Justice Deeny refused to grant the company a legal order known as specific performance.
In doing so he quoted a judgement of the late Lord MacDermott that the court should not make an order "that will beat upon the air."
The case is to be reviewed next month when the court will be told the Titanic Quarter Ltd's attitude about proceeding with an action for damages against Mr Rowe.
The case could have implications for other people in Northern Ireland who signed contracts for expensive apartments and then found themselves unable to pay after being made redundant.
Brian Speers of CMG solicitors, who led the team acting on behalf of Mr Rowe, said: "Our client was never trying to get out of what he knew was a legal obligation, but he was facing genuine difficulties.
"If the banks wouldn't grant him a mortgage because he had been made unemployed then clearly he could not complete the purchase.
"It cannot be in anyone's interests to spend huge amounts of time and money on legal proceedings when some imaginative thinking about how we can get a solution for both developer and purchaser could have helped resolve this."
A number of people who agreed to buy apartments in the Ormeau Bakery development and are now unable to complete were also in the court on Thursday to observe proceedings.
One man, who did not wish to be named, said he was "greatly relieved" by the judgement.
"I am facing bankruptcy," he said "but this ruling has given me a straw to hold onto."
Related Internet Links
The BBC is not responsible for the content of external sites.