McCausland shows dismay at IFA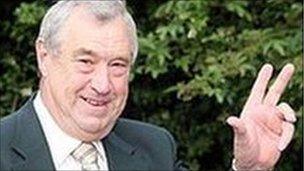 Sports Minister Nelson McCausland has expressed his disappointment at the situation at the IFA.
Last weekend, four members of its executive, including president Raymond Kennedy and vice-president David Martin resigned with immediate effect.
Mr Kennedy will now remain on the IFA's executive board so it has a working quorum, but will offer his resignation at a council meeting in September.
Mr McCausland described the events as "sad".
"Over the course of the week I have been stopped by people in the street that I have been talking to and they have just shaken their heads, people are lost for words," he said.
"If it wasn't so ridiculous, it would at times be funny, but it is not.
Mr McCausland had already made it clear that substantial government funding for football would be put at risk if Mr Kennedy and Mr Martin remained in their jobs at the IFA.
He said on Thursday that he was pleased the IFA had assured him that an independent review of its governance arrangement would take place, but was disappointed this was not already under way.
He said he felt this could be completed within a "matter of months".
"This is a structural issue it is not simply about two individuals, that's the symptom of a deeper problem," he added.
"The best thing is to have an independent review carried out in a way that will ensure that I as the minister, sports people, football fans, teams, everyone has assurance and confidence in the organisation and we have governance that is fit for purpose.
"The question is not if the IFA gets its house in order, the question is when the IFA gets its house in order."
The IFA confirmed earlier this week that it had received the resignations of Mr Kennedy, Mr Martin, honorary treasurer Neil Jardine and board member Jim Shaw.
The IFA council will meet on 6 September to determine the process to be followed for the election of office bearers at the September council meeting.
The IFA statement on Tuesday confirming Mr Kennedy would remain on the IFA board until next month was released after two days of frantic meetings involving the main players in the ongoing internal wranglings.
The organisation has been in turmoil since Mr Kennedy was criticised in an independent report into the sacking of former chief executive Howard Wells.
The upheaval comes at a time when government funding for the redevelopment of Windsor Park stadium is at risk.
Mr McCausland said on Thursday that he was "absolutely confident" funding would be made available for the upgrading of sports stadia in Northern Ireland.
"We are now entering the next comprehensive spending review, that money is down there in the comprehensive spending review, I believe the executive will approve that," he said.
"There is widespread support right across the parties for good stadia for football, for rugby and for gaelic.
"When we get that money through the comprehensive spending review, we will know exactly what the level of funding will be for a replacement stadium and then football can look foward at international level to a much brighter future."
The resignations of the quartet from the IFA executive board left the executive committee with just five remaining members - one short of the minimum number required for decisions to be taken.
Representatives of Premiership clubs met on Monday and it was indicated that there was "unanimous agreement" that Mr Kennedy and Mr Martin should quit their positions "as soon as possible".