Figures reveal level of cancelled hospital appointments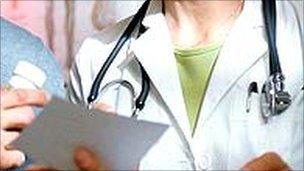 Almost 80,000 hospital appointments in Northern Ireland have been cancelled in the past year because consultants were not free to see patients.
The figures were released by the Department of Health on Thursday.
More than 176,000 appointments were cancelled by patients on the day they were due to attend.
Appointments involving consultants were cancelled due to other clinical duties or unavailability, the Department of Health said.
Dr Josephine Deehan, who is a GP in Omagh, said better planning is required to tackle the issue of appointments being cancelled due to consultants being unavailable.
"Consultant out-patient clinics should not be cancelled," she said.
"For example if the consultant is on annual leave, there should be sufficient resources within the system to absorb that, bearing in mind that each consultant will have five to six weeks of annual leave per annum."
The Patient and Client Council which speaks on behalf of patients said the issue of hospitals and specifically consultants cancelling appointments was raised only this week at its board meeting.
A British Medical Association NI spokesman said the association was concerned at the number of patients who did not attend their appointments.
"We understand that not all patients will be able to attend the appointment times given to them, but had these patients advised that they were unable to attend, their appointment could have been allotted to another patient.
"In terms of the figures that show that appointments were cancelled due to unavailability of consultants, the total figure of cancellations is equivalent to 3.2% of patients seen.
"BMA once again states that more consultants are needed in the Northern Ireland medical workforce to treat patients. The current recruitment freeze will only exacerbate the problem.
The spokesperson added: "There is no detail given in this document as to why these appointments were cancelled, although some cancellations are likely to be due to consultants taking annual leave to which they are entitled."