Coati missing from Belfast Zoo thought still alive
By Niall Glynn
BBC News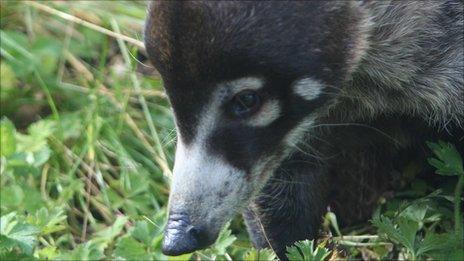 The manager of Belfast Zoo has said he is confident a racoon-like animal which escaped more than five weeks ago is still alive.
The white-nosed coati from Belize escaped from the north Belfast site on Monday 19 July.
"While it remains relatively mild we're presuming it's still alive," zoo manager Mark Challis said.
"They're resourceful, relatively tough animals and there's a good presumption that it's still alive."
The mammal was being held in quarantine after just arriving at the zoo.
It had been hoped the female would take part in a breeding programme with several other coatis recently imported.
Mr Challis said there had been three sightings of the coati on the periphery of the zoo two weeks ago, but none since.
"It was quite reassuring to have these sightings close to the zoo, because that's what we thought it would do, because it knew the site and obviously we were putting food out for it as well.
"So we're hopeful that it's still quite close to us," he said.
"If we do get a good sighting of it, we're ready to run wherever we're needed."
The coati is an omnivorous animal and is likely to be surviving on fruits, berries and leaves as well as mice and small birds,
The zoo manager stressed that it was no threat to any domestic pets it may cross paths with.
"This is a small mammal, no bigger than a domestic cat and by nature it's not going to be looking for a confrontation with dogs or cats or anything like that," he said.
"By nature it's going to be more shy and retiring than that."
While so far the coati seems to be staying close to the zoo, two previous escapees were found further afield.
Two different red pandas escaped in 1999 and 2002.
"One was put up a tree by fox hounds in Templepatrick and we caught the other one in a garden on the outskirts of Glengormley," Mr Challis said.
Anyone who sees the coati should contact the zoo on 02890 776277.
Related Internet Links
The BBC is not responsible for the content of external sites.