On the road with Uncle Hugo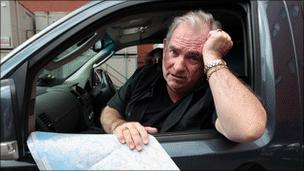 Fans of Hugo Duncan, who can't get enough of the 'wee man from Strabane', are being offered another way to get their daily fix.
If listening to his radio show is not enough, they can listen to Uncle Hugo making sure they don't take any wrong turns while driving.
From Friday, the BBC Radio Ulster presenter's unique voice can be downloaded onto Tom Tom or Garmin SatNav devices.
Fans of Hugo can enjoy being called eejits when they take a wrong turn and being advised not to drive over the top of roundabouts among other things.
And of course, at the end of their journey they will be greeted with an hilarious "We're here! Skiddly-aye-dee-diddle-deddle-dum".
Step by step instructions on how to download Hugo's voice to SatNav devices can be found online as well as troubleshooting advice and further information.
"I go around the country and do 60,000 or 70,000 miles a year, so I nearly know every corner on the road," Hugo said.
"I was asked to get involved to be a voice for Tom Tom and Garmin and I thought I would get involved and it was great fun doing it.
"There was lots of directions I gave that couldn't be put on at all."
"You had to stick strictly to the distances and the turn rights and turn lefts, but there were a few wee things I added on myself."
He added: "It's not like me to tell people where to go, but sure at least I'm not telling anyone to get lost.
"I know a lot of people listen to the show on the road, so now they can get some extra Uncle Hugo to help them along on those long journeys. Just pretend I'm in the car with you."