Dead cow remains trapped in weir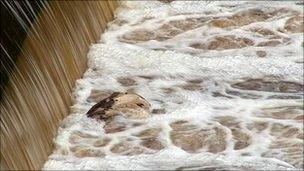 A dead cow, trapped in a weir in Omagh for three days, has not yet been recovered due to water levels.
Omagh Council said it would remove it as soon as it was safe to do so.
The cow's body was spotted in the weir on the Strule River on Tuesday and reported to the council.
Council officials said it was difficult to access the animal due to the location of where it was caught. The contractor for removing fallen animals is monitoring the situation.