Wilson questions need for Human Rights Commission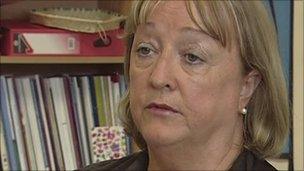 Finance Minister Sammy Wilson has questioned the need for the Human Rights Commission in Northern Ireland.
It follows the decision by its head, Monica McWilliams, to step down a year early.
In a statement released through the DUP press office, Mr Wilson said he wanted to see a "reduction in the number of these quangos either through abolition or amalgamation".
He queried whether £1.7m a year should be spent on the commission.
"The news that Monica McWilliams is to step down will have reminded people that the Human Right Commission exists," he said.
"I am sure that the vast majority of people in Northern Ireland have little idea what it does, and if they did they would have little reason to support its continued existence.
"At a time when there is pressure on public finances we should be questioning the need to spend £1.7m a year on this organisation, and not only it but the plethora of other organisations like it such as the Children's Commissioner and the Equality Commission.
"These bodies appear to have little meaningful purpose other than to provide jobs for failed politicians from Alliance and the Women's Coalition.
"Few people will have heard of Monica McWillams, fewer will be sad to see her go."
Ms McWilliams said on Monday her decision to leave next August rather than in 2012 was intended to give its new board a chance to settle in.
She said it was not directly related to the Northern Ireland Office's decision to impose funding cuts of 25%.
She accused the government of trying to stymie the commission by blocking £30,000 funding from a US charity.
Ms McWilliams said she did not accept the NIO's claim that the Atlantic Philanthropies money was blocked because it was outside the organisation's core business.
The Human Rights Commission was set up in 1999 following the previous year's Good Friday Agreement.
Ms McWilliams, an academic and former Women's Coalition assembly member, succeeded Brice Dickson as its chief commissioner in 2005.
Related Internet Links
The BBC is not responsible for the content of external sites.