Northern Ireland's planning process 'a laughing stock'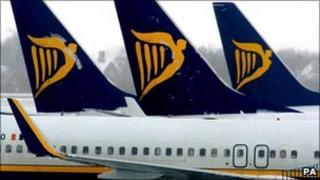 The length of time it takes for major planning decisions to be made is making Northern Ireland a laughing stock, an assembly member has said.
Alban Maginness, the chairman of Stormont's Enterprise Committee, was speaking after Ryanair announced it was pulling out of Belfast City Airport.
It said it was doing so because a public inquiry into a planned runway extension would be further delayed.
Mr Maginness said the planning process in NI was "tortuous".
"I think for an important decision such as this one, because of the major implications, it should have been dealt with more expeditiously.
"If you want to attract investors into Northern Ireland - and everyone wants to do that - then we've got to have a planning service and planning decisions that are timely," Mr Maginness said.
"What we've got to do is arrive at a system which is timely, which is expeditious, which is certain for applicants, because people like Michael O'Leary aren't going to hang around for three years to get something decided.
"John Lewis is another example of an application that has been held up for years - we're being made a laughing stock throughout these islands."
'Blackmailed'
Enterprise Minister Arlene Foster said the authorities in Northern Ireland would not be "blackmailed".
"If you search on the internet for 'Ryanair pulls out', a whole raft of places will come up. The reason always given is the government and airports haven't done what we asked them to do," she said.
"Quite frankly, if that's the way Michael O'Leary operates, to blackmail governments and airports, we have to take considered opinions in relation to decisions, and that's what we're going to do."
Environment Minister Edwin Poots said he had long said that Northern Ireland needed to get planning applications turned around more quickly.
"That has been the case over the last number of months, we have been getting a considerable amount of decisions out in a much shorter timeframe," he said.
"I'm going to continue pressing that and I'm still not satisfied that we've reached anywhere near the point where I'd want us to be.
"In terms of this particular application (Belfast City Airport), this is not in the hands of the planning service, this is in the hands of the planning appeals commission - an independent body."
He said some planning cases being heard by this commission had been repeatedly delayed by "vested interests".
Mr Poots said he believed too many judicial reviews were being granted.
"Government is being run by writ rather than by wit," he said.
Belfast City Airport has wanted to build a runway extension for some time and it would have enabled Ryanair to fly to destinations much further afield.
Last month, the Planning Appeals Commission delayed a planned public inquiry into the proposed extension until further information is provided by the airport.
On Tuesday, Ryanair chief executive Michael O'Leary said: "It is very disappointing that the promised runway extension at Belfast City Airport has still not materialised more than three years after we opened the base at Belfast City.
"In these circumstances, sadly, we have better alternative airports elsewhere in the UK and Europe, all of whom are willing and able to provide us with the runway infrastructure and low-cost facilities we need".
He also said if permission was granted in the future, then Ryanair would come back.