Harland and Wolff wins multi-million windfarm contract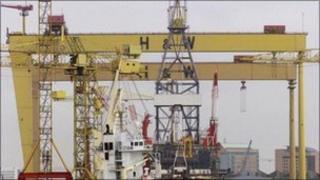 Harland and Wolff has won a multi-million pound contract to design and build two sub-station platforms for an offshore windfarm.
The contract has been awarded by Siemens for the Gwynt y Mor facility 10 miles off the coast of north Wales.
It is believed the contract is worth in the region of £20m.
Robert Cooper, chief executive of Harland and Wolff, said as well as safeguarding existing jobs, 30 to 40 new ones could be created.
"Certainly in terms of the manufacturing shops it will maintain the jobs that we currently have here," he said.
"We believe that it will also generate maybe another 30 or 40 jobs during the manufacturing cycle and will also give considerable opportunities to the supply chain within Northern Ireland."
Better known for its shipbuilding, H&W has increasingly diversified into the marine renewable energy sector.
Last year it won a contract to construct 30 wind turbines.
Enterprise Minister Arlene Foster said it was a "significant contract win for Harland and Wolff".
"Northern Ireland's strong knowledge base, skilled engineering capability and favourable geographical location will result in significant opportunities for local firms throughout the manufacturing supply chain to win business in an emerging offshore wind sector valued at over £100bn.
"Given this potential, Invest Northern Ireland is working to ensure that Northern Ireland companies compete at the forefront of the renewable sector."
Meanwhile, East Belfast Alliance MP Naomi Long said that it was "brilliant news for the company and for east Belfast".
"This announcement shows that where we get involved in sustainability, there are real opportunities to grow our innovation base and manufacturing base."