GPA gives GAA backing over Croke Park fence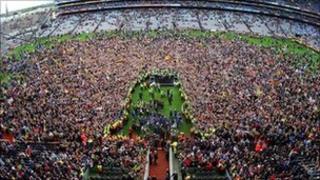 The body which represents GAA players has urged fans to respect measures taken to stop fans coming on to the pitch at Croke Park in Dublin.
It has been traditional for fans of the winning team to stream on to the pitch at GAA headquarters after a big game.
However, the GAA has erected a fence in front of the famous Hill 16 terrace on safety grounds.
The Gaelic Players' Association has backed the move ahead of the All-Ireland Hurling Final on Sunday.
It said pitch invasions represented a danger to player safety and to the wellbeing of supporters and stewards.
A statement issued by the association said: "The GPA is happy to support the initiative as it is not acceptable that players should have to endure verbal abuse or physical interference after an intense championship game.
"We would also appeal to fans to consider losing players, particularly after the All-Ireland finals.
"The physical and emotional drain on players is immense."
The GAA has considered fencing off Hill 16 for some time but the tipping point came when referee Martin Sludden was attacked by angry Louth fans at the end of the Leinster Senior Football Championship final.
The same incident also saw a steward struck by a plastic bottle and Meath substitute Mark Ward assaulted.
However, not all GAA players back the move to fence in supporters.
Last month Down forward Benny Coulter, whose team have made it to the All-Ireland football final, said that for a winning player there was "nothing as good" as fans coming on to the pitch.
He added: "If in 10 years time a Down team wins an All-Ireland final and I am supporting them I would hope to get on the pitch."