Centre for Social Justice warning on NI social ills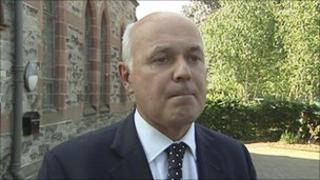 Northern Ireland needs to look beyond the Troubles and address its "crippling level of social breakdown", according to an independent think tank.
The Centre for Social Justice (CSJ) says high levels of unemployment, family breakdown, mental illness and addiction need to be tackled.
In a report published on Thursday, it argues that there should be earlier intervention to help troubled families.
London-based CSJ was set up by former Tory leader Iain Duncan Smith in 2007.
The report, "Breakthrough Northern Ireland", says that the Troubles has exacerbated "five drivers of poverty" - welfare dependency, family breakdown, educational failure, drug and alcohol addiction and debt.
However, it goes on to argue for people and politicians in Northern Ireland "to move on from the past and make a concerted attempt to create a healthier society".
The report contains a number of key findings, which it says highlight the extent of social breakdown in Northern Ireland.
It says that mental illness is "widespread with nearly 50,000 men and women out of work because of mental and behavioural disorders".
It adds that 30,000 people use cannabis every month and the rate of use increased 50% between 2002 and 2006.
The divorce rate is more than five times the level of 40 years ago.
Answers
To tackle the problems, the report suggests reform of the tax and benefits system, tackling educational failure and "placing recovery at the heart of addiction treatment".
North Down councillor Ian Parsley, who left Alliance and joined the Conservatives last year, is a local adviser to CSJ.
Its report also details "instances of outstanding work by volunteers and communities in Northern Ireland from which the rest of the UK can learn".
But it emphasises that the political system, which it says has been focused on delivering political stability, "must begin to provide answers to the severe social problems outlined here".
Mr Parsley said that Northern Ireland "has much to teach as well as to learn about effective poverty fighting".
He added: "What we must reflect on, however, is that although our political leaders have proved efficient at delivering stability, they have not yet produced the vision and ideas which will tackle the basic pathways to poverty."