Prayers said as Stuart Wilson dies after boat accident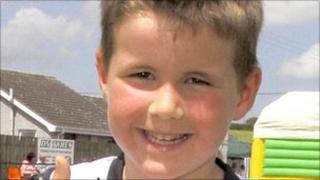 Prayers have been said in Rathfriland after a six-year-old boy struck by a speedboat in County Down on Monday died in hospital.
Stuart Wilson, from Rathfriland, was on a wave board being towed by a boat, when the collision happened.
He suffered severe head injuries and died in the Royal Victoria Hospital on Thursday.
A service at St John's Church of Ireland in Rathfriland was led by the Reverend David Somerville.
Speaking after the service, he said: "The family are obviously distraught and they have said they want to be left alone to grieve and that is what we want to give them.
"So we felt that if we gave the community an opportunity to come to church just to be here, to talk to each other, to express their grief, to pray for the family, that it would be a positive thing."