Funeral of boy who died after Cranfield boat accident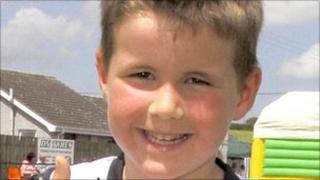 The funeral has taken place of the six-year-old Rathfriland boy who died after being struck by a speedboat earlier this week.
Stuart Wilson was being towed on a wake board at Cranfield beach when the accident happened on Monday.
Hundreds of mourners attended Stuart's funeral service at St John's Parish Church in Rathfriland on Saturday afternoon.
He was laid to rest in the graveyard next to the church.
Rev David Somerville spoke of Stuart's "sense of fun" and love of sport at the funeral service.
He also paid tribute to those who had battled to try and save the boy's life following the accident.
Stuart's family say they have been overwhelmed by the prayers and support they have received from the local community.