Bill Clinton due in NI ahead of economic summit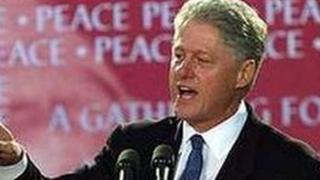 The former president of the United States, Bill Clinton, is to make a brief visit to Northern Ireland.
The trip will take place ahead of an economic summit organised by his wife, US Secretary of State Hilary Clinton, on 19 October in Washington DC.
Mr Clinton's intinerary has not yet been formalised.
US economic envoy to NI Declan Kelly said Mr Clinton retained "a passionate interest in NI" and wanted to help improve its economic situation.