Adventurer Norman Surplus puts autogyro trip on ice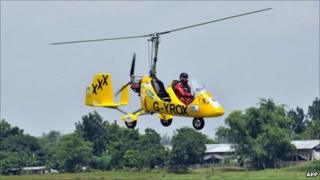 A Northern Ireland man's attempt to fly around the world in a tiny autogyro has been put on ice until the spring.
Norman Surplus set off from Larne in March and since then has travelled almost 18,000 km as far as the Philippines.
The adventure sportsman and cancer survivor wrote on his blog that wintry conditions in the North Atlantic meant he had to call "half-time" on his world record attempt.
Mr Surplus said unforeseen delays earlier in his voyage - which included a forced landing as he tried to take off in Thailand in May - meant he had missed the summer window to cross the Bering sea.
"Being so far north in latitude, it is deemed only suitable to navigate light aircraft by this northern 'bridge' across the Pacific Ocean and International Date Line during the very briefest of summer months.
"By mid September, the harsh winter conditions are again closing in and access to the region shuts down once more and will remain so until the late spring."
Having taken a well-deserved rest, Mr Surplus said it was "time to pause and reflect on a fabulous first half played out over half the world's surface".
He said his craft had "now flown a further straight line distance than any other autogyro in history, crossing some 16 consecutive countries".
Mr Surplus still has some massive challenges ahead of him, with his planned route taking him over Russia, North America and Greenland.